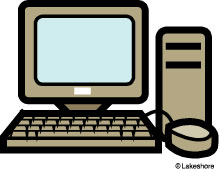 Listed below are numerous interactive and educational websites. Students can explore these sites while enhancing their math, science, writing and reading skills.
Fun 4 the Brain - http://fun4thebrain.com
Greg Tang Math - www.gregtangmath.com
HoodaMath - http://www.hoodamath.com

Math-U-See - http://www.mathusee.com/drill.html
Choose which operation (addition, subtraction, multiplication or division) you would like to review and then click start to review your math facts.
MobyMax - http://www.mobymax.com

National Library of Virtual Manipulatives - http://nlvm.usu.edu/en/nav/category_g_2_t_1.html
This website is filled with virtual games and activities in areas such as addition, subtraction, number lines, percentages, integers, and tangrams.

Oswego Games - http://resources.oswego.org/games/
This website offers tons of interactive educational math games. A few of the many topics include multiplication, coordinates, multiple digit subtraction and telling time.
Xtra Math - www.xtramath.org
Reading

Fun Brain - http://www.funbrain.com/brain/ReadingBrain/ReadingBrain.html
This site allows readers to design Mad Libs Junior or read from books such as Diary of a Wimpy Kid.
PebbleGo - http://www.pebblego.com
Non-fiction databases containing articles about Science, Social Studies, Animals and Biographies!
Seussville - http://www.seussville.com
Dr. Seuss themed website with lots of educational activities such as letter recognition, concentration and matching games.

Star Fall - http://www.starfall.com/
This is a great site for beginner readers. It will help students to recognize letter sounds, vowels and word families in a fun and interactive way.

Time For Kids - http://www.timeforkids.com/TFK/
This site provides activities and recourses to help students refine their skills in many areas including reading comprehension, word study and writing.