ENROLL TODAY!
Click HERE to register
PLEASE READ GED PREPARATION INFO BEFORE REGISTERING
(All of these courses are offered FREE of charge for Stratford and Trumbull residents and $25 for up to five students from other towns.)
GED PREPARATION CLASSES
This program prepares students to pass the 4-part exam to earn a State of Connecticut diploma. Students receive necessary instruction in each subject area and can take practice GED tests with their instructors. Each applicant is required to take a placement exam, and based on the scores will receive their schedule .
Evening programs are held at Birdseye Complex Monday - Thursday evenings for 12 weeks.

Daytime classes are held at Birdseye complex Monday's (ABE English) and Wednesday's (GED English) 9:00 - 10:30 AM. Tuesday's (ABE Math) and Thursday's (GED Math) from 10:30 AM - 12:00 PM for 12 weeks.

Testing is mandatory for students who have 12+ hours of classes, per the state of CT. These tests are given on site, and happen throughout the semester. If applicable the office will contact students.
Date of Birth (from Driver License, State of CT Identification Card, Passport or Official Birth Certificate) and proof of Stratford or Trumbull Residency must be provided upon registration. 17 and 18 year old applicants must have officially withdrawn from day school. Childcare is not available.
GED TEST
NOTE: ALL students are required to take all 4 parts of the GED practice test before registering for the actual GED test. These tests are offered FREE for all our students and given on site. Contact the office for more information.
The GED test is a four-part examination including the following sections:
Science

Literature and Arts Reasoning through Language Art

Social Studies

Mathematics/Reasoning
Class Eligibility
17 years of age and older

Officially withdrawn from school
Test Eligibility
17 & 18 year old applicants must document they have officially withdrawn from school for at lest 6 months prior to registering for the GED Test or the class in which they entered (or would have entered) 9th grade has already graduated.

19 and over - no restrictions

Picture ID is required
How do I start (TEST)?
Students must start their application online (www.ged.com), and then go to the official registration center for completion. Be sure to bring a photo ID. An applicant 21 years of age or older and a non-veteran must pay a of $13.00 to take the test. The fee includes the cost of the diploma. Only veterans and applicants under the age of 21 are exempt from the fee. (Veterans must have served at least 181 days of active duty at the time of registration.) The fee is non-refundable and must be paid at the time of registration. It should be paid in the form of a money order or certified check made payable to Stratford Continuing Education.
GED TEST ACCOMMODATIONS: Accommodations on the GED test are available for qualified individuals with a disability. For more information, contact Sabrina Mancini, Connecticut State Department of Education, Bureau of Career and Adult Education at 860-807-2110/2111.

Students who would like a copy of their transcript must submit a transcript request form to:

Connecticut Department of Education
Bureau of Career and Adult Education
25 Industrial Park Road
Middletown, CT 06457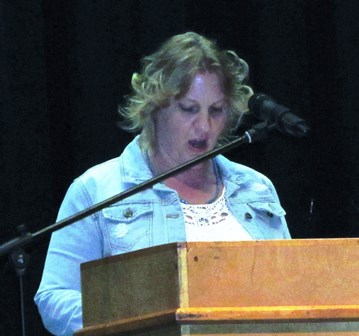 LINDA SHERRY
Linda Sherry, a lifelong resident of Stratford, came to the Stratford Continuing Education program in September of 2016. The same evening that Linda arrived, she completed all of the registration requirements for our program. She came well-prepared and sailed quickly through registration. However, the mention of appraisal testing created immediate uncertainty and concern with Linda. Being out of school for so long, she quickly began to question her decision, her ability, and began to set herself up for possible disappointment. This would not be so. With some friendly urging, she was able to "power" through her appraisals and erase any self-doubt.
It has always been a regret for Linda that she never finished High School. For many years, she mulled over the idea that someday she would return to finish what she had not completed. As years passed, her desire was intensified by the missed opportunities that a high school diploma would present: access to higher education and better employment opportunities. She struggled to help her children with homework and wanted to do more. When she felt that the moment was right, Linda sprang into action and found her way to our Continuing Education program at Stratford High School.
With encouragement and praise from the Continuing Education staff, Linda turned her initial doubt into determination and drive. Linda has many times expressed her gratitude for the instruction, motivation, and support she has experienced since joining our evening program. She credits much of her success to the genuine care and concern that her teachers and staff have shown throughout her attendance.
Linda has already successfully completed three of the four GED state tests, Reasoning Through Language Arts, Science, and Social Studies, necessary to obtain her high school diploma. This will neither end her educational or employment goals. After passing the remaining Mathematics Test and graduating, she will continue her education and pursue a nursing degree. With her warm and caring demeanor, it is not surprising that she will specialize in Hospice care. Linda has these words of encouragement for others, "I invite anyone who did not graduate high school to come back. As I have learned, you also will learn, it is so worth your time."
Linda is an excellent capable student, always willing to accept any challenges. Since she has joined the ABE/GED program, her confidence has soared as she continually realizes new accomplishments. We, at Stratford Continuing Education, would like to wish Linda continued success with our program and with her career goals beyond.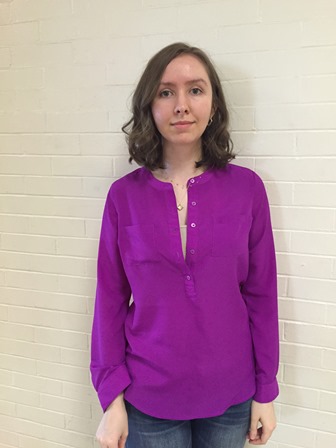 LISA DAVIS
Lisa Davis was already pondering her career options and personal goals when she found the Stratford Continuing Education announcement in the "Stratford Community Calendar". Although Lisa is a very able individual, she realized that the lack of a high school diploma would suppress her further educational progress and her prospects for career advancement. our program provided her with an educational opportunity which would fit well with her lifestyle, and provide a catalyst to help launch her toward success. Lisa was a welcomed member of the GED (General Education Development) Program at Stratford Continuing Education. She began pursuing her high school diploma beginning in the fall 2015 semester, attending our daytime program at Sterling House.
For most of her life, Lisa had been home-schooled and spent very little time in public or private education systems. There was some time in Fairfield's K-5 school as well as some time spent in Sylvan learning Centers many years ago. After a high school orientation, an unfamiliar setting for her, Lisa decided to return to homeschooling. Homeschooling is a great way to learn, as Lisa has shown from her impressive abilities; however, obtaining an official high school diploma would prove difficult. Lisa was not one to retreat when confronted by obstacles and embraced the challenge and explored her options. With the encouragement and support of family and friends, Lisa set out to close this chapter of her primary education.
In just two short semesters, fall of 2015 and spring of 2016, Lisa has proudly accomplished her goal. In April of 2016, she passed all four sections of the GED test which included Mathematics, Language Arts, Science, and Social Studies. With impressive scores on the Practice GED Tests administered in early April, continuous classroom achievement, and at the urging of Continuing Education staff, Lisa proved her readiness by passing the GED test with inspiring scores, just in time to participate in our May 2016 graduation ceremonies. With options still open, Lisa will continue on to college. Learning has become a passion and she would like to build upon what she has already learned.
Lisa has generously given her thanks and appreciation to the staff of Continuing Education and especially to her teacher who extended her time, knowledge, kindness, and patience, and helped Lisa succeed. She extends a special recognition to her family who has been a constant source of praise and inspiration. To all others, especially those having similar needs and goals, she says, "Furthering your education will enhance your life and mindset. if any aspect seems daunting, just breathe and take it one step, one mini-goal at a time."
The staff of Stratford Continuing Education wishes Lisa Davis much success in life as she realizes and embraces the richness and rewards attainable through education. With her bolstered confidence, boundless curiosity, and a passion for learning, she will undoubtedly realize her career inspirations.